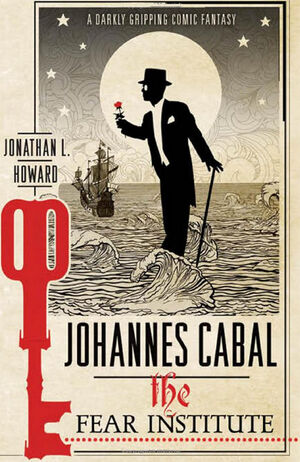 Publication
Edit
Johannes Cabal and the Fear Institute By Jonathan L. Howard
Publisher: St. Martin's Griffin
Publication: Reprint edition (September 16, 2014)
Page Count: 352 (paperback)
ISBN: 978-1250054623
Publisher: Headline (hardback) Headline (paperback)
Publication Date: 1 Sep 2011
Page Count: 352
ISBN: 978-0755347988 (hardback) 978-0755348008 (paperback)
Description
Edit
Beyond the wall of sleep lie the Dreamlands, a whole world formed by dreams, but not a dream itself. For countless millennia, it has been explored only by those with a certain detachment from the mundane realities of our own world, its strange seas navigated, and its vast mountains climbed by philosophers, and mystics, and poets.
Well, those halcyon days are over, beatniks.
Johannes Cabal is coming.
Cabal, a necromancer of some little infamy, is employed by the mysterious Fear Institute to lead an expedition into the Dreamlands, an expedition whose goal is nothing less than to hunt and destroy the dread Phobic Animus, the font of terrors, the very source of all the world's fear. They will enter exotic lands where magic is common and monsters abound, see wonders, and suffer dreadful hardships. Cabal will encounter witches, vile abominations, and far too many zebras.
And, when they finally come close to their goal, Cabal will have to face his own nightmares, but for a man who communes easily with devils and the dead, there is surely nothing left to fear.
Is there?
More Info
Edit
Additional UK Title: Johannes Cabal 3
German Title: Johannes Cabal - Das Institut für Angst und Schrecken -: Roman
Ad blocker interference detected!
Wikia is a free-to-use site that makes money from advertising. We have a modified experience for viewers using ad blockers

Wikia is not accessible if you've made further modifications. Remove the custom ad blocker rule(s) and the page will load as expected.