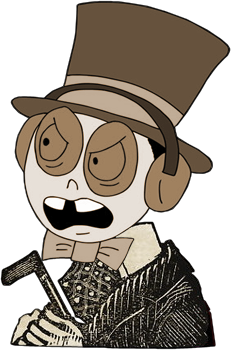 Character Facts

Species

Vampire

Gender

Male

Age

Early Twenties

Appears in

Necromancer; Brothers Cabal

Life status

Undead
The charismatic elder brother of Johannes Cabal. He assists Johannes with his carnival throughout the course of Johannes Cabal the Necromancer. Horst posesses a rather more traditional set of morals than his younger brother, and as such serves as his foil throughout most of the book.
Appearances
Edit
Horst's first appearance is in the third chapter of Johannes Cabal the Necromancer. He appears regularly in the novel thereafter.
Mentions of Horst are made in passing along the courses of Johannes Cabal the Detective and Johannes Cabal: The Fear Institute. He is the main protagonist in The Brothers Cabal.
Other Information
Edit
Horst wears a dark purple top hat with a frock coat and trousers to match. His waistcoat is embroidered in silver and black.
Generally considered the more affable and kindhearted Cabal brother, Horst is quite popular with the ladies.